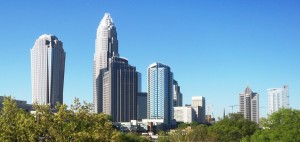 Well, Charlotte is becoming on of the top 10 cities to live in by more and more companies! Charlotteans know why, do you? A national website called Livability studied over 500 cities and Charlotte ranked in the top 10 of "Resolution-Keepers", based on several factors:
1. Fitness – there is an abundance of recreational activities and overall general good health of its residents.
2.Population growth – Despite the economic downturn, we continue to grow every year according to info posted on the Charlotte Chamber of Commerce's website.
3. Cost of Living – Livability cited: "Charlotte has a low cost of living, which helps residents save money."
4. General Happiness – "The majority of residents in Charlotte, NC, share a sense of optimism that their health and lives will improve, according to the Gallup-Healthways Well-Being Index. That's the kind of positive environment resolution makers need to achieve their goals."
5. Charlotte is a well-educated city with nearly 40% of its 25 years and older population with a college degree – amazing!
6.Financial strength – over 250 Fortune 500 companies have offices in Charlotte.
7. Cultural amenities – We have it all – Broadway plays, opera, museums, live music, symphony music and all kinds of ethnic celebrations including Italian, Latino, Irish, Asian and many more!
8. Volunteerism – More than 34% of Charlotteans do some type of volunteer work. (The Ballantyne Buzz is proud of Charlotte's civic-minded community!)
So, if you are thinking about visiting Charlotte, I will be happy to give you a tour or make suggestions about what you should see while you are here! You can contact me at Lynn@LynnJohnsonRealtor.com . Charlotte's gota lot to offer – we hope to hear from you soon or as we say in Charlotte: "We'd love to meet y'all and show you our city!"