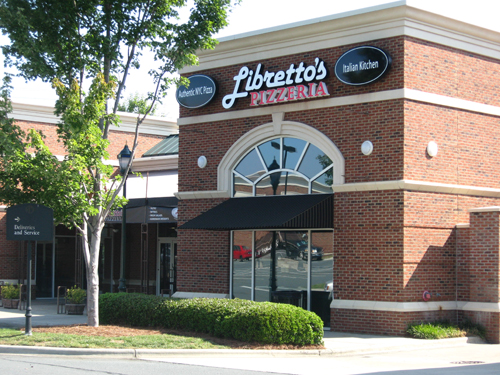 I recently visited a very delicious Italian Restaurant in Ballantyne called Libretto's Pizzeria, located in the Ballantyne Commons East Shopping Center located on John J. Delaney Drive. This pizzeria is sure to become a local hangout. There is outdoor, cafe-style seating, an interiorbar area with big screen TV's to catch your latest sports team plus a a dining room for more traditional dining.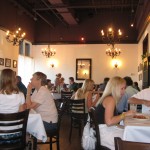 I had to chuckle when I checked out their website: "Libretto's Pizzeria and Italian Kitchen: Manhattan, Charlotte & Ballantyne" – too cool! It almost reminded me of Julia Roberts eating her way through Italy in Eat. Pray, Love! She is not denying herself one tender morsel of pizza with tomatoes, cheese, fresh basil and sausage, meeting the most incredible people, looking great even when she has to buy bigger pants! Why does Julia always have all of the fun?? But I digress…
So let's talk about the food: I split the Sicilian Chopped Saladwith a friend. It was fresh and chocked full of romaine, roasted peppers, chick peas, tomato, kalamata olives, feta, balsamic vinaigrette…loved all of the various flavors combined together…healthy too!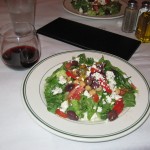 The accompanying bread was piping hot and the $5.00/glass of the house Chianti was a nice complement. Then the pasta dish arrived: Penne Palermo ~ Italina sausage, roasted peppers, fresh mozzarella & marinara…yummo! The sauce was thick and melted in your mouth.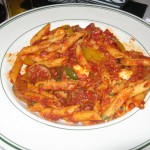 Our server was very friendly but I think she had too many people to take care of. We had to flag down the hostess to get silverware and water re-fills. However, in all fairness, our waitress did a great job overall!
I will definitely go back – I am dying to try the authentic New York-style pizza! There are cases of different pizza's you can buy by the slice. I will have to try them all!Wonder what Julia is doing next week…