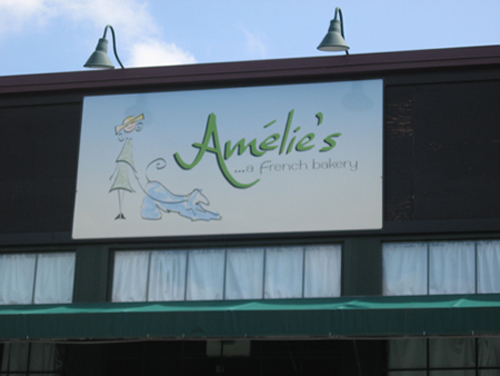 This colorful French Bakery is not in Ballantyne; but, you have to jump in your car anddrive to NoDaon a Saturday afternoon… or afterattendingan Uptown Charlotte basketball game,Broadway play or a Lady Ga-Ga concert- wear your jeans, your Louis Vuitton's or yourlocal softball team uniform – it doesn't matter, just go! Amelie's rocks!
Imagine Peanut Butter Petit Fours, French Macaroons, Pecan Sticky Buns, Salted Caramel Brownies and every kind of Croissant imaginable…got your attention yet? No sweet tooth? Then may I recommend Tartines (pronounced "tar-tans") with Ham & gruyere cheese , Portobello mushrooms & leeks, Spinach & asiago cheese or Tomato, fresh basil, Dijon mustard & mozzarella cheese. Soups brimming with seasonal vegetables and baguettes stuffed with roast beef and boursin cheese…OK, I think I've got you now! Check out their menu!
Combine all of these delectables with comfy couches, overstuffed arm chairs or funky painted tables scattered into vignettes for intimate conversation and you have a winner! Not to mention they are open 24 hours! HUH??!! There's more – free wi-fi, a huge parking lot, board games and a very-friendly staff.
I think I might just move in – I wonder if I could wash my hair in the sink…hmmm…