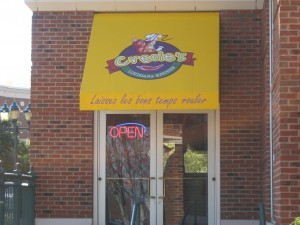 Today I met a very dear friend, Kim, for lunch at Creole's Louisiana Kitchen, located in Ballantyne Village on the corner of Ballantyne Commons and Johnston Rd. Kim, is a Cajun-foodie and we had been trying to find time on our schedules to try Creole's food.We entered under the yellow awning which welcomes you with a New Orleans saying: "Laissez Le Bon Temps Rouler" which means "Let the Good Times Roll!" The restaurant features tables, a bar and a small outdoor area. The restaurant was decked out in Mardis Gras decor, New Orleans Saints, LSU, and other New Orleans memorabilia.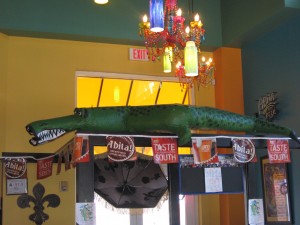 Creole's menu featured everything from Gumbo to Jambalayato Shrimp Po-Boys. We tried the Gumbo and the Chicken Cajun Salad. Kim's first remark was "This is the best gumbo I have had in Charlotte!" Alrighty, we have a winner! It was a nice luncheon-sized bowl of Gumbo loaded with shrimp, chicken, andouille sausage and tomatoes served with rice and a roll. Kim likes it a little more spicy; but, I tasted it and it was plenty spicy for this Cajun-novice! There was Tabasco on the table to add some heat so you can make it just right!
My Cajun Chicken Salad was flavored well with cajun spices; but, itwas a mixtureof dark meat and white meat mix which is not my favorite. It was presented beautifully on a bed of shredded lettuce and stuffed in a tomato. If you don't mind dark meat chicken, I would highly recommend it!
The owner's father brought us out a sample of their alligator chili containing alligator, shrimp, crawfish and andouille sausage. (He guaranteed it to be the best Alligator Chili we tasted that day or it was free – LOL!) It had a sweet taste with a hot finish. Yummy! They fly in their Andouille from Louisiana and their Muffaletta bread comes straight from New Orleans' Gambino's Bakery.
Thursday nights include Jazz music and there is a Crawfish Boil every Sunday during crawfish season…plus there will be a Jambalaya cook-off in April. The service was friendly and just right!
I have visited New Orleans several times andenjoyed thejambalaya, boiled crawfish, etouffe and shrimp po-boys . But, I never had a Muffaletta which is a sandwichstuffed with salami, capicola, ham, provolone and an olive spread…Next time this buzzer is trying the Muffaletta! Care to join me?