Looking for a fun event that will help others?
Well mark your calendars… The6th Annual GIMME SHELTER event is coming up on Sunday, August 10th at 3-7 p.m.!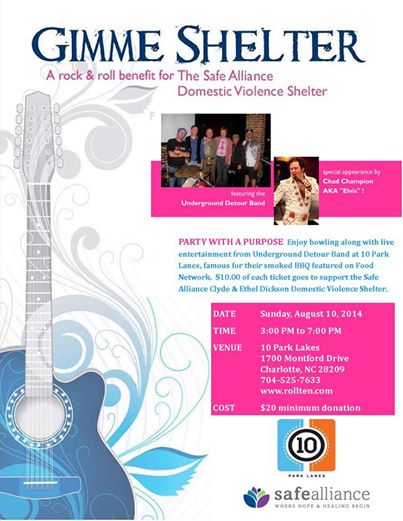 Gimme Shelteris a rock & roll benefit for theSafe Alliance Domestic Violence Shelter. Safe Alliancebelieves that domestic violence is destructive to individuals, families and society. Safe Allianceworks to end violence in every intimate partner relationship. To get help or if you know someone who is suffering from domestic violence, call 704.332.2513 (24-hours, 7 days/week).
This party with a purpose will beat 10 Park Laneson Montford Drive. Bring your friends and come enjoy bowling along with live entertainment from Underground Detour Band. 10 Park Lanesis known for their famous smoked BBQ (it was even featured on Food Network)– so you definitelywont want to miss it!!! Tickets are only $20.00 and $10.00 of every ticket sold will go to support the Safe Alliance Clyde & Ethel Dickson Domestic Violence Shelter.
See theflier for more event details.
Watch this video & learn more aboutSafe Alliance: