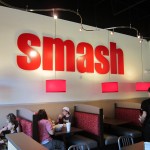 When I pulled up to Stonecrest in the Ballantyne area at theirnewest restaurant called Smashburger, I wondered what the heck a "Smashburger" could be…their website says: "Where smash. sizzle. savor means a dedication to creating the best-tasting "cooked-to-order" burger. We start with 100% Angus Beef, smashed, seared and seasoned on the grill…" Well, when placing my order, no one asked me how I wanted my burger cooked so I was surprised to read that.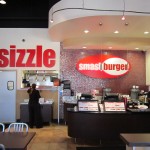 I must say the place was appointed well with comfortable red booths and lots of tables for larger groups. It was not your typical hamburger joint and it definitely was not priced like a hamburger joint either. But, read on…
As my friend, Gene Fitzpatrick with Myers Park Mortgage and I perused the Smashburger menuwhile we were in line, I was tempted to try a salad or a chicken sandwich – The Buzzer has been trying to cut back on her fat grams! But, the place was called Smashburger so you gotta try the burger! I selected the All American Smashburger and the Smashfries: fries tossed with rosemary, olive oil and sea salt – sounded yummy! Gene ordered the Classic Smashbuger and plain fries.
We chose our table, self-served out drinks and waited for our food. The waiter delivered our food promptly and the presentation was very nice. Everything looked fresh and it was pipinghot. My All American Smashburger was a little overcooked but was very flavorful and the Smashfries were the bomb! If you like rosemary, you will love these fries. They were hot, crispy and delicious! It was all I could do not to eat every last one of them. I was so relieved when the waiter picked up my plate as I was having difficulty listening to Gene and eyeing those fries at the same time!
Gene said his burger was on the salty side and he only finished about half the burger and fries. He complimented the decor. So, will I go toSmashburger again? Yes! If only for those killer Smashfries! Plus, I want to try the chicken or a salad…more to come! P.S. – don't try to get te coupon on Facebook for a free Smashburger. It does not work because the parent company hasn't added it to their website. When we inquired about it, their response was "We are currently working on getting it fixed" with no offer of emailing me a coupon. Oh well, I will give it another try!