If you have not stopped by the Blakeney shopping center in Ballantyne, you may want to pack a lunch and bring a map. 🙂 Of course, Blakeney has a store that sells maps and offers fast food to fine dining so no need to worry!
One of the great shops I love is Home Goods which has fantastic bargains on furniture, giftware, linens and household goods. When Home Goods opened in Blakeney, it was wonderful because I did not have to drive all the way to Concord Mills to get my bargain "fix". Another great shop at Blakeney is Francesca's, specializing in cool jewelry, clothing and other accessories to add the perfect touch to your outfit. I first discovered this store in Alabama and fell in love with the selecton and great prices too!
My favorite "nice evening out" restaurant at Blakeney in Ballantyne is 131 Main. Hope there is a wait because you can slip into the bar and slip into one their icy Cosmo martinis…awesome. My Favs are the Maryland Style Crab Cakes and the Thai Style Steak Salad – asian noodles, cabbage, mint, avocado and mango…mmmmmm….!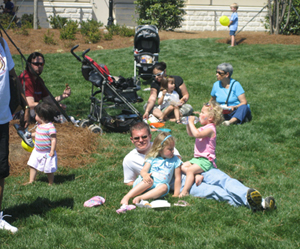 If you are all tuckered out after shopping and dining, you can relax at the Village Green area and listen to free live music on Friday and Saturday nights. This is kid-friendly or even a great date-night idea. And speaking of kid-friendly, on June 10th Blakeney will sponsor "Family Fun Fest" with Live entertainment, Panthers and Bobcats cheerleaders, mascots, games and prizes! There is a small charge that gets you in plus you will be eligible to win several Blakeney shopping sprees. The fun starts at 5:00 PM!
So, see what all the "buzz" is about at Blakeney in Ballantyne. There is a ton more stuff than mentioned here – check it out! See you around the Village Green!